¿Mujer o Bruja? (Woman or Witch?) is a 2021-present multimedia collaboration between the Tiptons Sax Quartet and award-winning Latin American music duo Correo Aéreo (Abel Rocha and Madeleine Sosin), and digital artist Jing 'Jude' Dai. Conceived and directed by Madeline Sosin, the collaborative studio recording of ¿Mujer o Bruja? was released March 8, 2023, now available for download and streaming at www.tiptonssaxquartet.bandcamp.com
Earshot Jazz Live Stream of the first night of the performance!
SEE JUDE DAI'S AMAZING VIDEO OF HOW WE WORKED ON THIS PROJECT TOGETHER!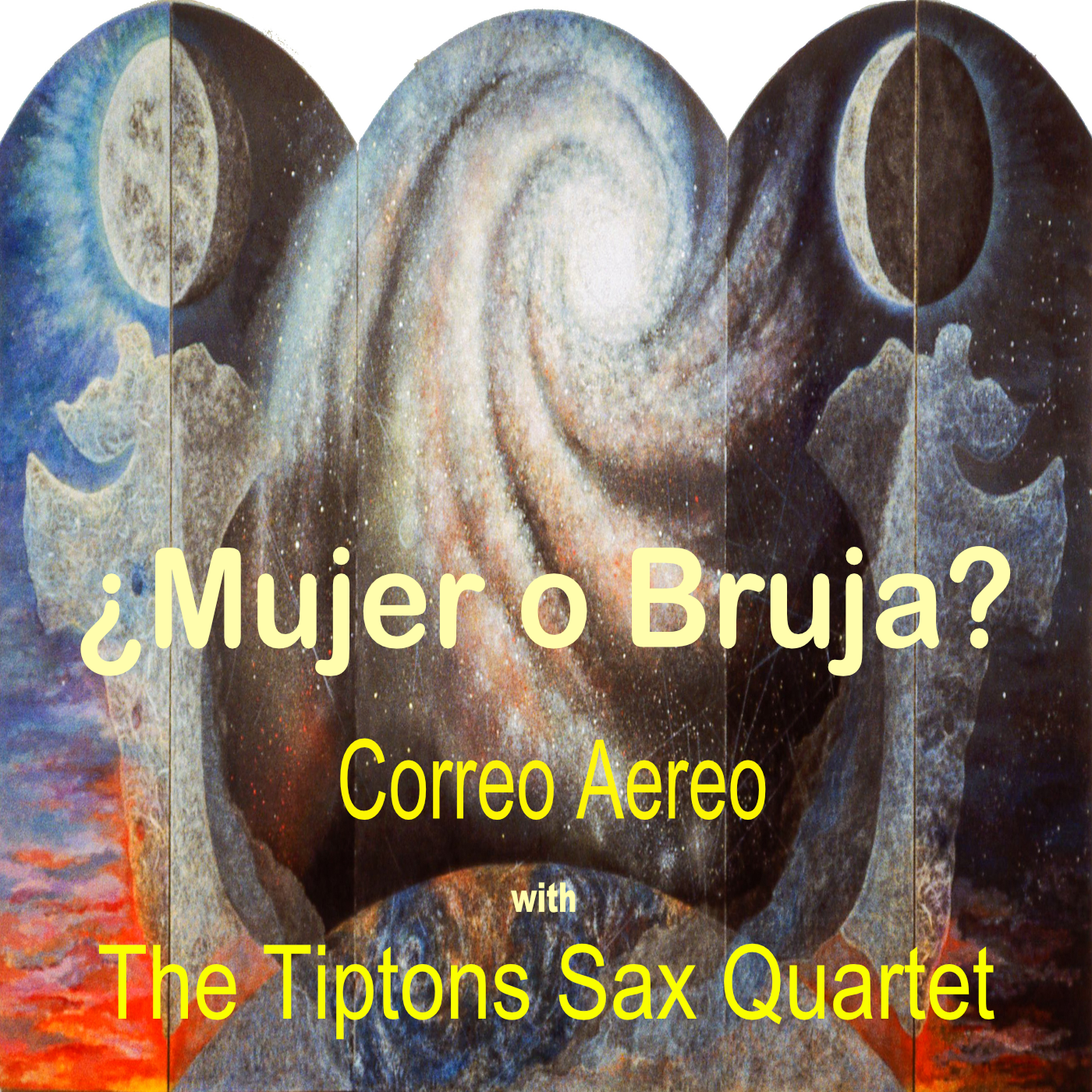 ¿Mujer o Bruja? original videos created by Jude Dai:
PROJECT DESCRIPTION:
During the worldwide COVID-19 Pandemic, two powerful music ensembles and a digital technologist joined forces to create a multimedia project based on research of the role of women in Mexican and Latin American culture through story and song.
The Tiptons Sax Quartet (AD, Jessica Lurie, Sue Orfield, Tina Richerson with percussionist Elizabeth Pupo Walker), Latin American music duo Correo Aéreo (Abel Rocha and Madeleine Sosin) and creative technologist Jing 'Jude' Dai. After a year of video conferencing, the group met in Seattle in October, 2021 to hone, finalize and present the piece. It was featured at the Earshot Jazz Festival, and co-sponsored by Non-Sequitur. The ensemble went on to record and mix the audio at Stone Gossard's Studio LITHO in Seattle.
¿Mujer o Bruja? was made possible with the support of a great tech crew, Nonsequitur, Earshot Jazz Festival, On The Boards, Seattle Composers Alliance, 4Culture, and a generous grant from Jazz Road, a national initiative of South Arts, which is funded by the Doris Duke Charitable Foundation with additional support from Andrew W. Mellon Foundation. Rehearsal support: Seattle Drum School & Kenyon Hall.
The award-winning all-female ensemble the Tiptons Sax Quartet (Amy Denio, Jessica Lurie, Tina Richerson and Sue Orfield) composed for and performed on soprano, alto, tenor and baritone saxes, flute, clarinet, piano, accordion, bass guitar, percussion, electronics, and voices. Correo Aéreo featured Abel Rocha and Madeleine Sosin on guitar, cuatro, jarana, Venezuelan harp, violin, maracas, quijada, bombo, voices), a multi-instrumental duo recognized internationally for their mastery in interpreting and creating music based on Latin American cultures.  Digital artist Jing 'Jude' Dai orchestrated the visual narrative for the ensemble's original music and narration.
Inspired by Riane Eisler's book The Chalice & The Blade and based on the archeological research of Maria Gimbutas and many other scholars, ¿Mujer O Bruja? draws us into rich sonic and visual worlds, looking at the history of feminine cosmology based upon birth, life, death and re-generation, and connected deeply with Nature and our own true nature as nature within the web of life. The project examines the effects of Dominator systems, the Mexican/American border, and includes a surreal cabaret, a story about a Mayan heroine and her bees, and other surprises. ¿Mujer O Bruja? tells an evolutionary myth for our times about the mysteries of transformation and the possibilities of Gylany, or Partnership. Partnership with our living Mother Earth, each other and all beings, our kin in the cosmic web of life.
A multimedia collaboration between
Correo Aereo, The Tiptons Sax Quartet and Jude Dai
Inspired by The Chalice & The Blade by Riane Eisler
Structure and story: Written and directed by Madeleine Sosin
Music: Written and developed by the ensemble
Visuals: Produced by creative technologist Jude Dai
Visual Curation and Concept: Madeleine Sosin and Jude Dai
Spanish & English translations – Abel Rocha
Produced by Amy Denio
Co-Producers: Madeleine Sosin and Jessica Lurie
ARTWORK: Cover image – Georgette Sosin; Design: Jessica Lurie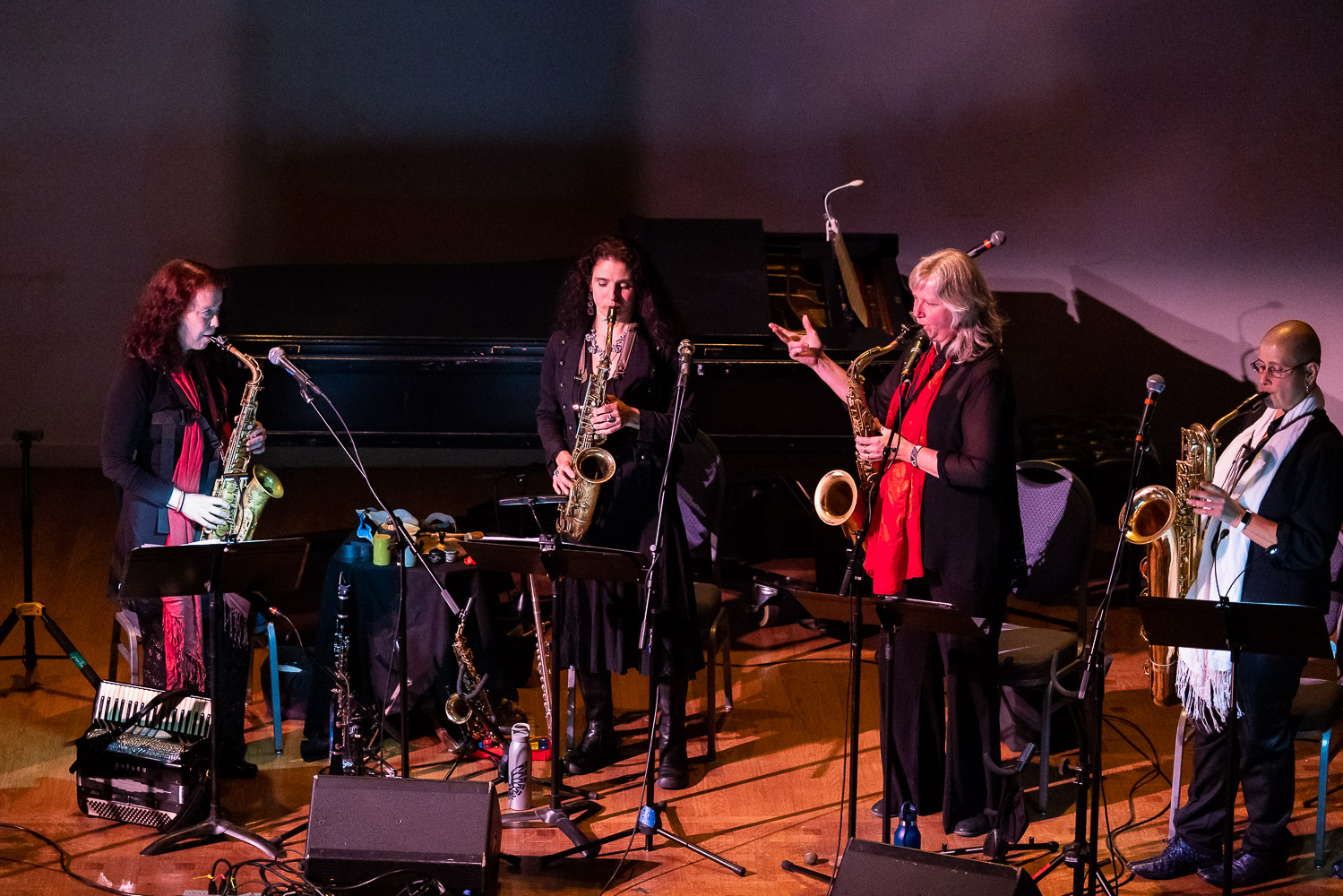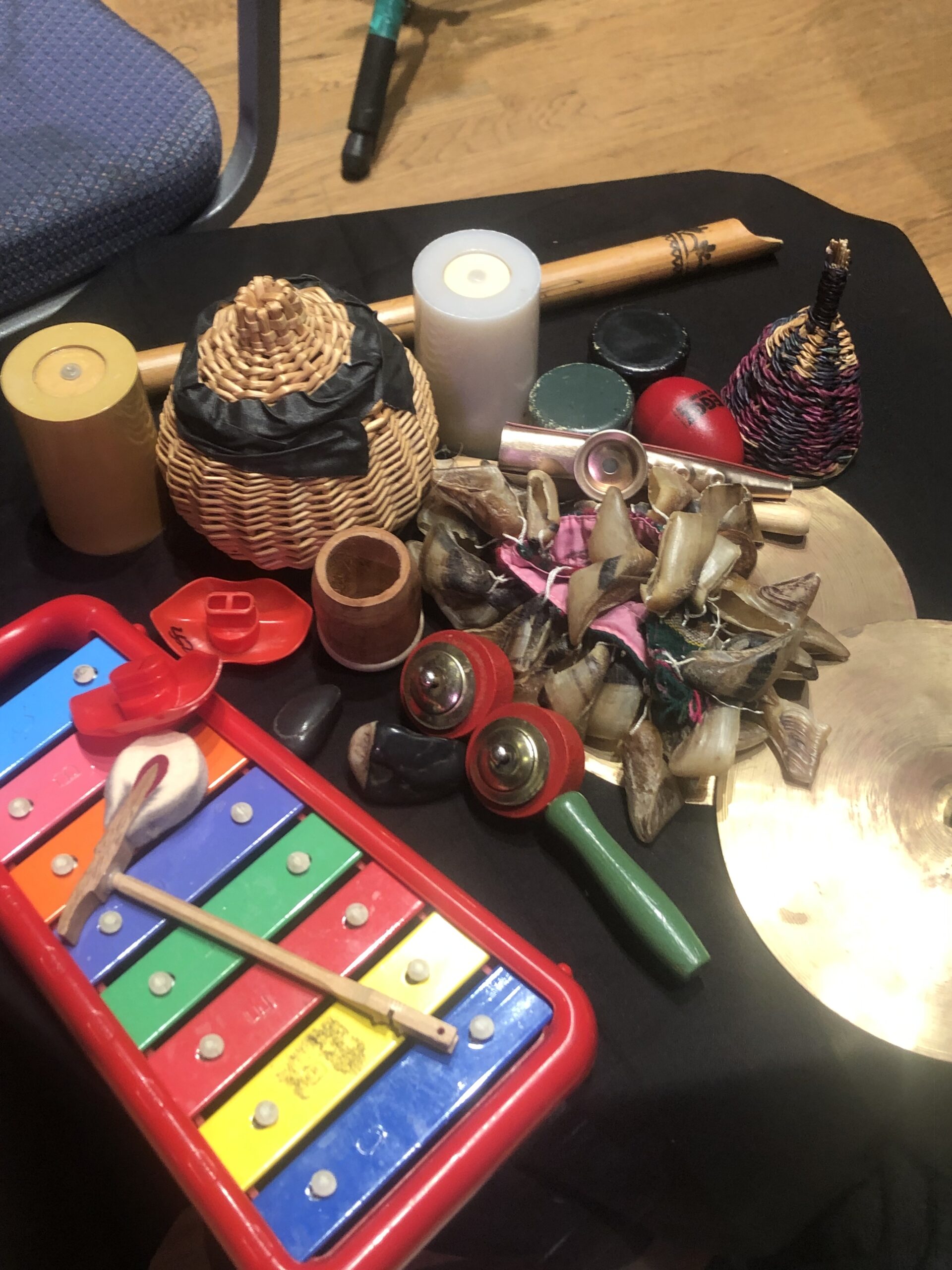 AUDIENCE REVIEWS
B. Dahlia: "This was special! I'm so grateful for the opportunity and good fortune to have been witness to, and participant in a small way in, this gem of performance and storytelling. Inspirational performances this weekend leave me cautiously hopeful, a reserved optimism that speaks to the world we have come from, where we are, and the plethora of possibilities before us. Truly an expansive reflection on our history as a species and the epochs of change we have journeyed through; the thesis?? Our continual reinvention provides the pathway to healing. The collective creative ritual made manifest by the Tiptons, Correo Aereo and Jing 'Jude' Dai's visual treatment takes a breathtaking look at our historic and potential future collective transmutation.And as one attendee expressed to me after the show, "this belongs Off Broadway!"
"This new work from The Tiptons Sax Quartet and award-winning Latin American music duo Correo Aereo (Abel Rocha and Madeleine Sosin, who also conceived and directs the show) and digital artist Jing 'Jude' Dai, is being presented at Chapel as part of Earshot Jazz – and I just gotta say: Extraordinary!"
"As dynamic and intense a musical experience as I've seen and heard from @tiptonssaxquartet (and I've seen and heard a lot of Tiptons!). Correo Aereo's strings, percussion, and voices mesh seamlessly with the Quartet. Musical movements joined with multimedia explorations into identity and cultural anthropology, past tragedy and future visualization; a compelling weave of story and themes intertwined with adventurous sonics and rich harmonies. It's a bold and formidable undertaking. Touching and poignant."
Jemilla Goldstein: "¿Mujer o Bruja? (Woman or Witch?)" as part of Earshot Jazz Festival at The Chapel Space at Good Shepherd, was a unique musical multimedia experience that took us on a deep dive and timeless flight that felt in part like a shamanic journey, part political commentary, and ALL ART! Hope, resilience, resistance, soothing beauty, intense pain of past trauma, quirky pointed humor, grounding earthy elements…I had no idea what I was in for. Special congratulations to our dear talented Madeleine Sosin (for directing, writing and performing) and all the incredible musicians and artists (The Tiptons Sax Quartet, Correo Aereo & Jing 'Jude' Dai) on such an amazing fruition of this unique collaboration and labor of love."