UPCOMING CONCERTS & TOURS 2023
TIPTONS SAX QUARTET SPRING WEST COAST TOUR Feb. 24 – March 12, 2023                        
We hope to see you on our Spring USA West Coast tour, with special guest Xavier Lecouturier on drums! We will be playinga lot of the music from our newest CD Wabi Sabi as well as other favorites and new compositions, and can be found on Bandcamp
• 2/24 INDIANOLA WA ~ The Goat TICKETS
10196 NE Shore Drive, Indianola (7:30 pm)
• 2/25 CHIMACUM WA ~ Finn River Cidery
, 124 Center Rd, Chimacum
finnriver.com
(5:30-7:30 pm)
• 2/26 CENTRALIA WA ~ The Juice Box
216 S Tower, Centralia (7:30 pm) 
• 2/27 OLYMPIA WA House Concert
• 3/2 CHICO CA ~ Butte Bible Fellowship
, Double Bill with the Chico Swing Band opening at 7 pm! 2255 Pillsbury Rd Chico
3/3 Daytime Humboldt University master class
• Daytime Compose Yourself Workshop
• 3/8 RICHLAND WA ~ Emerald of Siam 1314 Jadwin Ave, Richland (Two dinner sets, 6 & 8 pm)
• 3/10 CORVALLIS OR ~ OSU Lunchtime Music a la Carte, Memorial Union Lounge (12:00 pm) 
• 3/12 PORTLAND OR ~ Al's Den (McMenamin's) 303 S.W. 12th Ave., Portland (doors 6 pm, Concert 7-9 pm) 
CURRENTLY BOOKING Fall European Tour, October 18 – November 4, 2023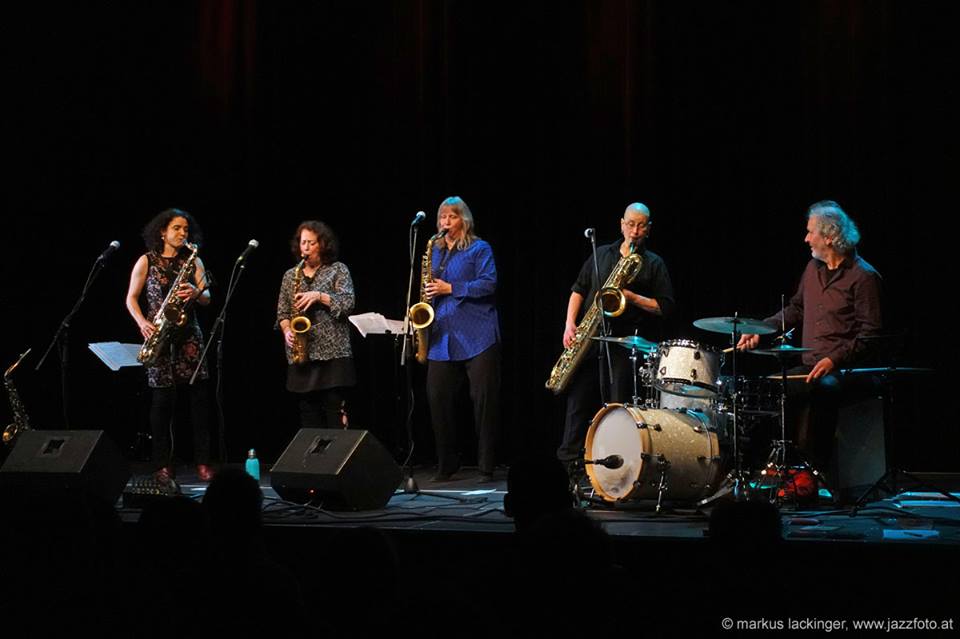 The Tiptons are: Amy Denio Alto Sax, Clarinet, Voice
• Jessica Lurie Soprano, Alto & Tenor Sax, Voice 
• Sue Orfield Tenor Sax, Voice 
• Tina Richerson Baritone Sax, Voice  • Robert Kainar Drums, Bells, Whistles
" … some of the most lusciously irreverent music in jazz … Their deviously entertaining … one catchy,harmonically rich number after another, drawing on styles from Romany brass to Soca to dixieland and many points in between. ~ The New York Music Daily
THE TIPTONS SAXOPHONE QUARTET & DRUMS are an internationally renowned all-female saxophone quartet with drums, celebrating over 30 years as a band. Amy Denio (alto sax, clarinet, voice) is joined by co-leader Jessica Lurie (soprano/alto/tenor sax, voice), Sue Orfield (tenor sax, voice), Tina Richerson (baritone sax, voice) and Robert Kainar(drums, percussion) from Salzburg, Austria. The Tiptons' material ranges from
micro-Big Band to Gospel, Bluegrass to Balkan, whimsical Chamber Jazz, and nocturnal Funk to Free Jazz Improvisation using saxophones, clarinet, their voices, drums, and inventive percussion to create a genre-busting 'world soul' sound.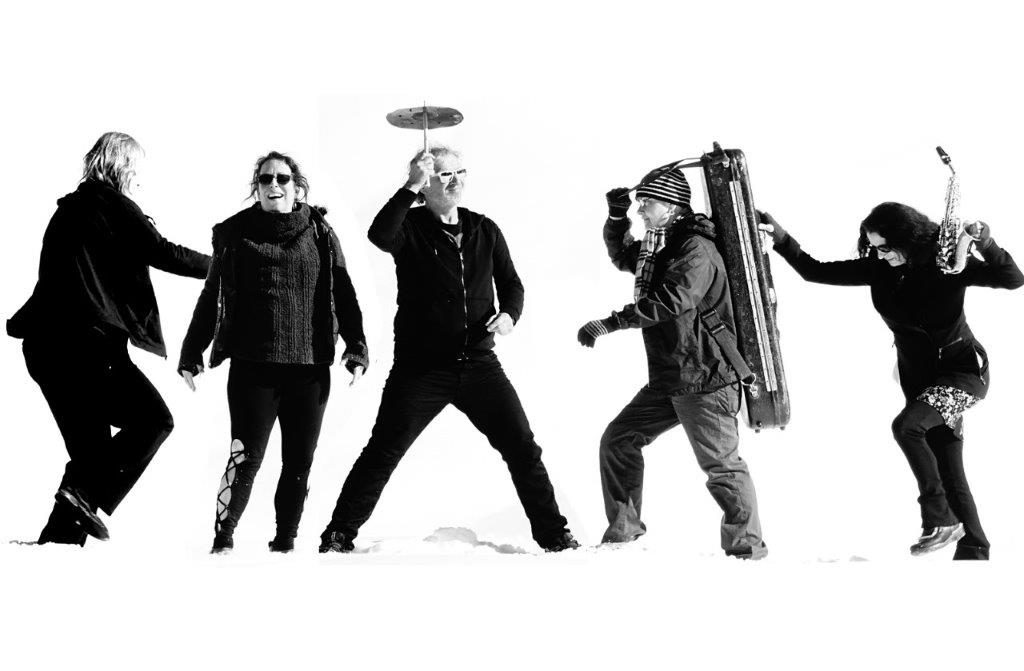 Our fabulous 14th recording Wabi Sabi features eleven new compositions for saxophones, voice and drums. This powerful collection of new music illustrates beauty in our chaotic world, and is inspired by the Japanese philosophy "Wabi Sabi" which encourages us to "find beauty and take pleasure in the imperfect".  Compositions by all of the members of the band that explore modern field hollers, the hum of tires on the Autobahn, tricks for the mind, a yodeling deconstruction, popping funk for December's doldrums, upbeat grooves for bad people with good intentions, this music delivers pure joy! Wabi Sabi will galvanize your senses and take you on a vivid journey through unforgettable soundscapes.