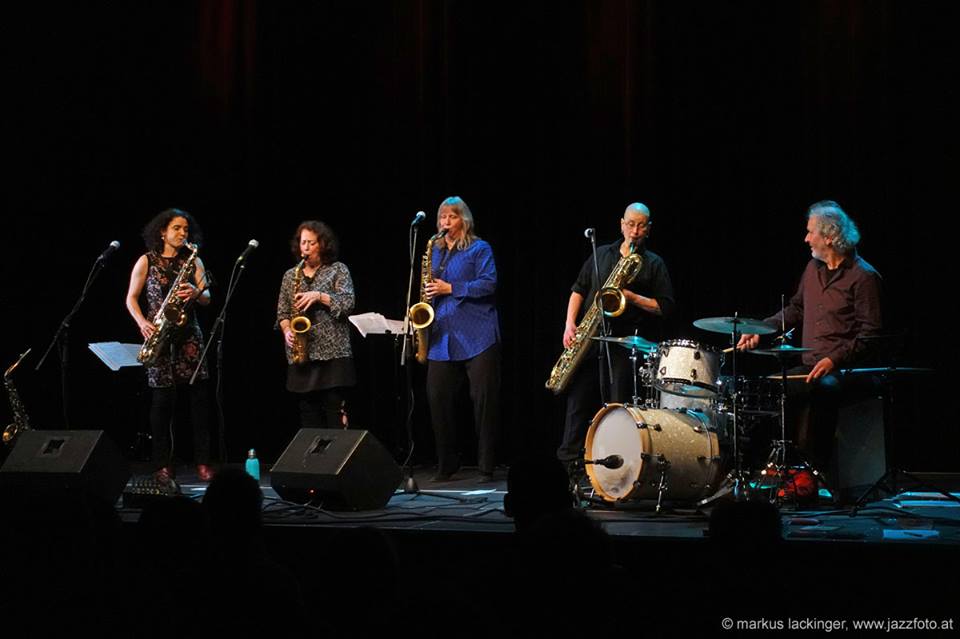 Amy Denio
Alto Saxophone, Clarinet, Voice •
Jessica Lurie
Soprano, Alto & Tenor Saxophone, Voice •
Sue Orfield
Tenor Saxophone, Voice •
Tina Richerson
Baritone Saxophone, Voice
• Robert Kainar
Drums, Bells, Whistles
"… More than 30 years along, the Tiptons Saxophone Quartet and Drums are sounding better than ever. Inspired by countless memorable collaborations with musicians from around the world, this group is setting a high bar for arrangements and compositions featuring multiple horns. Their powerful, confident sound combines jazz and classical music with funk and folk music from the broad reach of humanity." Abe Beeson,KNKX Seattle Public Radio
THE TIPTONS SAXOPHONE QUARTET & DRUMS are an internationally renowned all-female saxophone quartet with drums, celebrating over 30 years as a band. Amy Denio (alto sax, clarinet, voice) is joined by co-leader Jessica Lurie (soprano/alto/tenor sax, voice), Sue Orfield (tenor sax, voice), Tina Richerson (baritone sax, voice) and Robert Kainar (drums, percussion) from Salzburg, Austria. The Tiptons' material ranges from micro-Big Band to Gospel, Bluegrass to Balkan, whimsical Chamber Jazz, and nocturnal Funk to Free Jazz Improvisation using saxophones, clarinet, their voices, drums, and inventive percussion to create a genre-busting 'world soul' sound. The band takes its name in honor of Billy Tipton, a female-born saxophonist and pianist who lived their life as a man in the 20th century to realize their dreams as a professional musician. In October 2022 the Tiptons completed a wonderful 2 1/2 weeks in Germany, Italy and Austria, touring the music from their latest release Wabi Sabi.
NOW BOOKING tours fro 2023: SPRING WEST COAST TOURS AND OCTOBER EUROPE TOUR!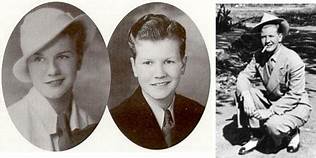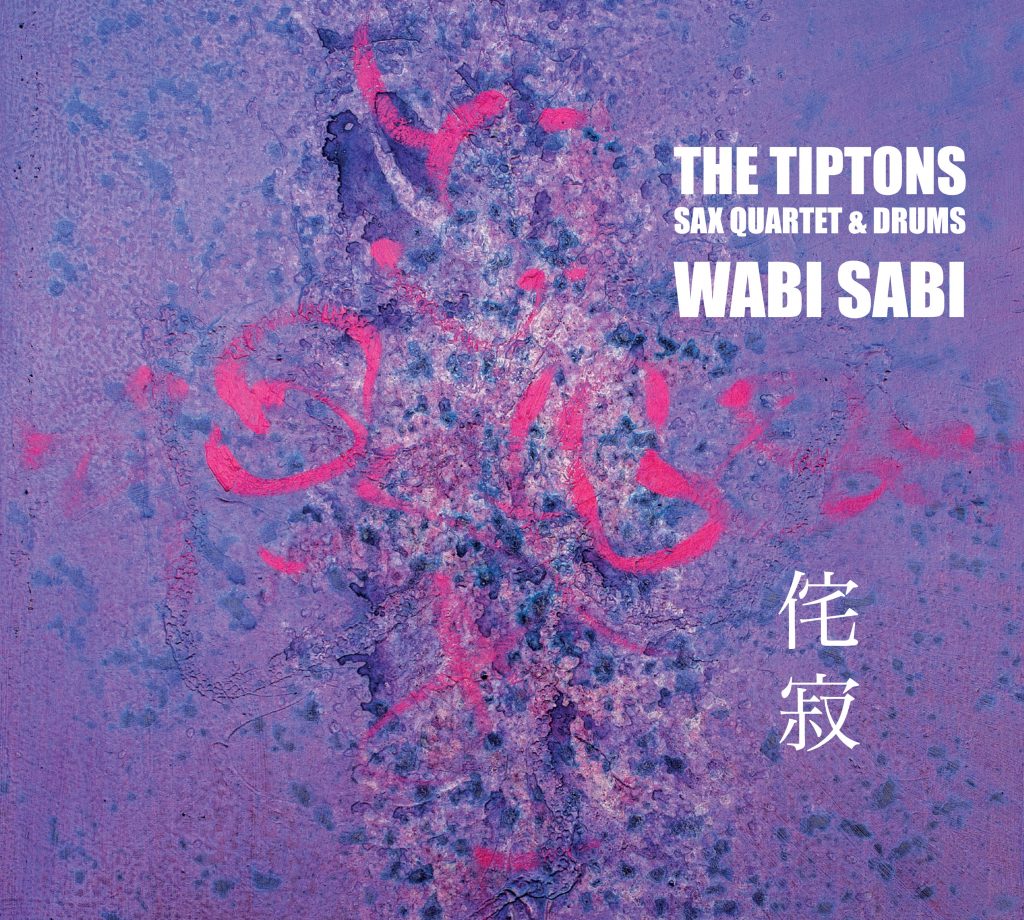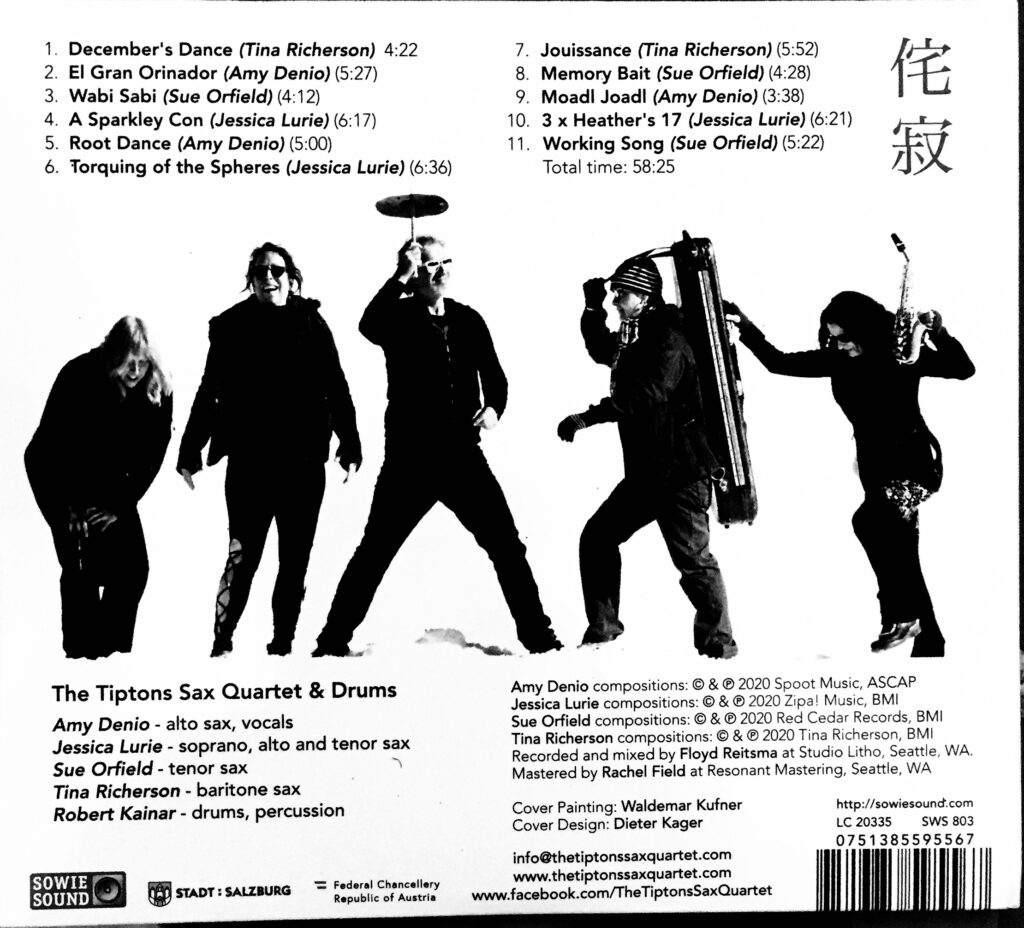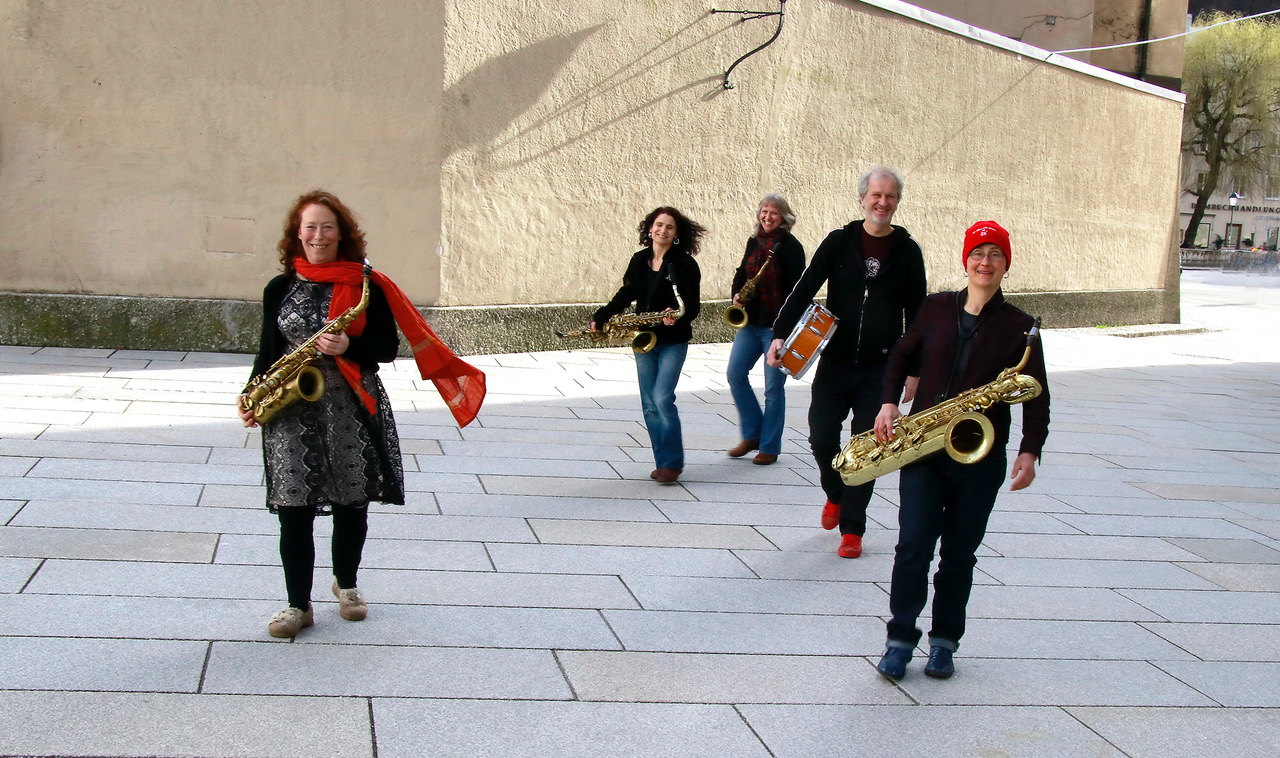 THE NEW YORK CITY JAZZ RECORD | MARCH 2021 Wabi Sabi, The Tiptons Sax Quartet & Drums (s/r) by John Pietaro
"Wabi Sabi was inspired by the Japanese aesthetic principle of transience and imperfection and, ironically, produced an album that's pretty damned perfect … soaring vocalized melodies … a global embrace of culture championed through improvisation … casting joyful lament.
Our fabulous 14th recording Wabi Sabi features eleven new compositions for saxophones, voice and drums. This powerful collection of new music illustrates beauty in our chaotic world, and is inspired by the Japanese philosophy "Wabi Sabi" which encourages us to "find beauty and take pleasure in the imperfect". Compositions by all of the members of the band that explore modern field hollers, the hum of tires on the Autobahn, tricks for the mind, a yodeling deconstruction, popping funk for December's doldrums, upbeat grooves for bad people with good intentions, this music delivers pure joy! Wabi Sabi will galvanize your senses and take you on a vivid journey through unforgettable soundscapes.