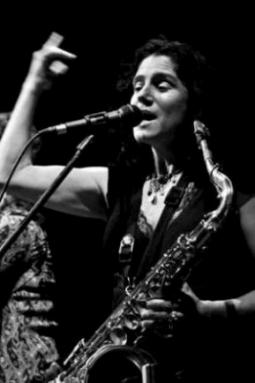 Jessica Lurie is a multi-instrumentalist performer, composer, producer, teaching and recording artist, based in Brooklyn, NY and Seattle,WA. She has been a member and co-leader of the Tiptons Sax Quartet since 1993. She leads her own band, and co-leads the Tiptons Sax Quartet & Drums, the Living Daylights trio, Sephardic group Sofie Salonika, Ethiopian-inspired jazz group Freethiopiques and the improvising Slingshot duo. She is a Sundance Composers' Fellow, regularly nominated in Downbeat's "Rising Star for Alto Sax" poll, most recently in 2016-18 and 2021.
Despite pandemic restrictions on touring, Jessica has been hard at work creating new music performances and collaborations, including "Shofar Meditations" (Brooklyn, NY, Oct. 2020), "Mujer O Bruja" with the Tiptons Sax Quartet (Seattle, WA, Oct. 2021), and being a core performer in Taylor Mac's "The Hang" (Jan.-March 2022). She is known as a composer and performer for her love of exploring a wide range of musical influences, including folk, funk, rhythmic Eastern European folk music and improvisation-heavy jazz with a dose of free-wheeling avant-groove-meets-grind.
As a composer she has received support from Jazz Roads; Brooklyn Jews; NEA; BRIC; Meet The Composer; Artslink; Earshot Jazz; 4Culture; MidAtlantic Foundation, including commissions from the Percussia Ensemble, Sound Symposium Festival (Nova Scotia), Circus Amok and Great Small Works. Jessica has released eight solo albums with her Jessica Lurie Ensemble, fourteen albums with The Tiptons and five albums with Living Daylights as a member & lead composer, receiving critical acclaim in Billboard, Downbeat, NYTimes, Jazz Times, LA Weekly, national and international radio. Recent performances and/or recordings include international artists such as John Zorn, Devotchka, Taylor Mac, Sleater Kinney, Helen Gillet, Fred Frith, Bill Frisell, Henry Butler, Indigo Girls, Mark Ribot, Frank London, Allison Miller, and Nels Cline of Wilco among others. Her newest release Long Haul (2018) is out on Chant Records, and several new releases are in the works for 2022.
Website: www.jessicalurie.com
Contact: zipamusic@gmail.com