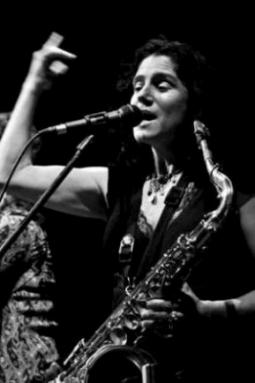 Jessica Lurie is a multi-instrumentalist and composer, specializing in woodwinds and voice. She enjoys a varied career as an international performer, composer, producer, and teaching and recording artist. Jessica has worked with artists such as Taylor Mac, John Zorn, Devotchka, Helen Gillet, Fred Frith, Bill Frisell, Henry Butler, Indigo Girls, Mark Ribot, Frank London, Allison Miller, and Nels Cline among others. Jessica performs with her own Ensemble, and co-leads the Tiptons Sax Quartet & Drums, Living Daylights, Sofie Salonika, Freethiopiques and Slingshot.
Jessica is a Sundance Composers' Fellow and a 2016/2017 Downbeat's "Rising Star for Alto Sax." Her projects have received support from Anti-Social Music; Brooklyn Jews; NEA; BRIC; Great Small Works; Meet The Composer; Soros Foundation; Artslink; Wayward Music Series; Percussia Ensemble; Sound Symposium Fest.; 4Culture; MidAtlantic Foundation; The National Performance Network; Arts International; Artist Trust; Seattle, King County and WA State Arts Commissions; Earshot Jazz; Isabella Stewart Gardener Museum; Croatian Ministry of Culture; Topolo; and the Jack Straw Institute among others.
Jessica has released eight solo albums, fourteen albums with The Tiptons and five albums with Living Daylights as a member & lead composer, receiving critical acclaim in Billboard, Downbeat, NYTimes, eMusic, Jazz Times, All About Jazz, Seattle Stranger, LA Weekly, Earshot Jazz, and national and international radio features. She is also featured on over 70 recordings as a collaborator and guest recording artist. She is currently working on new solo and collaborative releases for Fall 2021.
Website: www.jessicalurie.com
Contact: zipamusic@gmail.com